Finally.. It's here..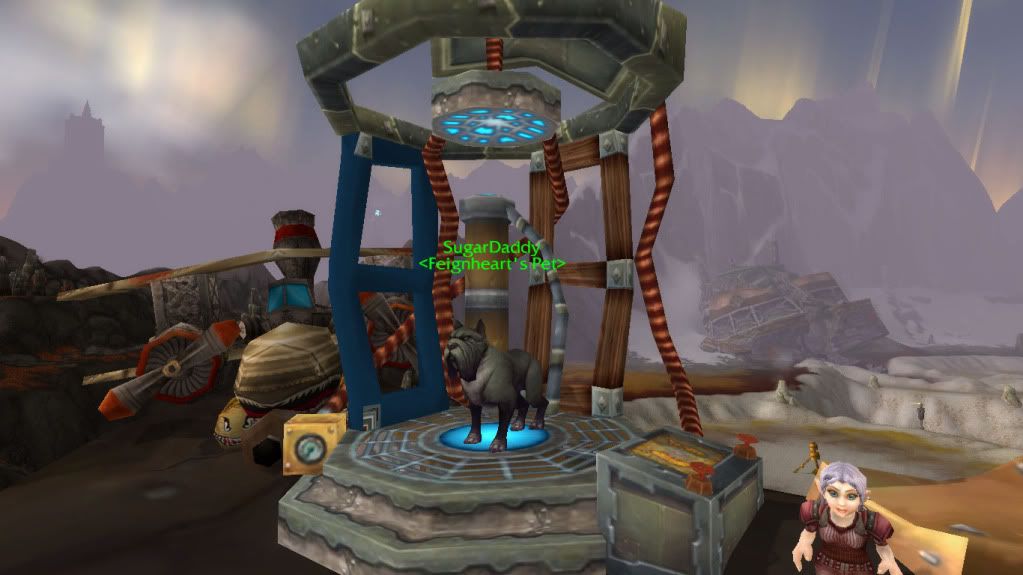 SugarDaddy
However, before we set off. I would like to announce the new name of my trustee companion. Introducing
SugarDaddy
, previously know as 'dog' up until now. The name, which may seem quite unfitting for some, was an inside joke within
TG
. Initiating the name change required me to pick up a
Certificate of Ownership
from the Auction House for around 50 gold, which deemed simple enough. Now you may be
wondering
, 'why so much attention around your pet?'. Well like I have mentioned before, dog.. or should I say SugarDaddy, has been my loyal companion since day one. Even though I can swap him at any time, I've grown to have a
sentimental
value around him. Not to mention that he has been through all the same adventures that Feighnheart has, and being
Beast Mastery
of course revolves around your pet. So that I feel is enough to justify giving him some of the
spotlight
.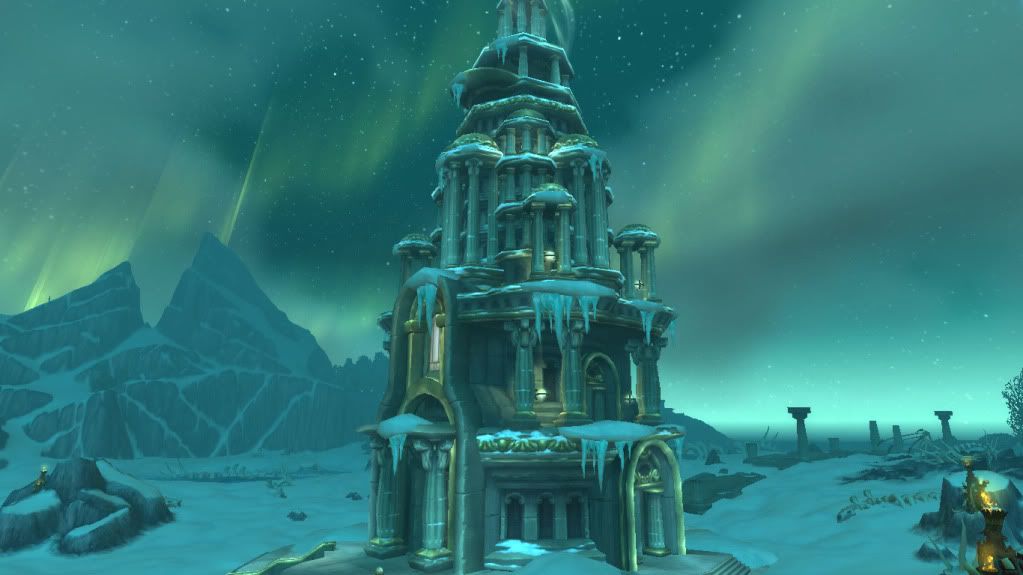 Wrymrest Temple
Anyway.
Feignheart's Adventure
, alongside SugarDaddy, now leads them to the
Land of the Dragons
.
Dragonblight
. This vastly covered snow terrain, resonating a very 'arcane' power feeling which is only bolstered by the
magical
creatures and mythical, yet fully present, dragons which inhibit it, is not one to be overlooked. Another aspect which completely sets the scene, is that of the
music
. The
soothing
, yet occasionally
intense
, piano playing really embarks you into a sense of adventure and
emotion
. Altogether, I was really sucked into the zone, it's story and everything it and the environment had to offer.
Narnia
especially comes to mind. This zone also features the raid instance,
Naxxramus.
The Tuskarr
The
people
and
creatures
of the blight.
Along my adventure through this expansive area, I encountered many new and reappearing factions. Firstly there are the
Tuskarr,
of whom struck me as a very
inquisitive
race and faction. They seem to share very similar
traits
, such as a wish for peace and tranquillity, as the
Tauren
. Locked in a war with the Wolvar, I feel their race holds room for much expansion. Across the land exists other factions, such as the arachnid
Nerubians
, the mighty
Argent Crusade
and the merciless
Scarlet Onslaught.
However, much of the focus is based around the 'Dragonflights'..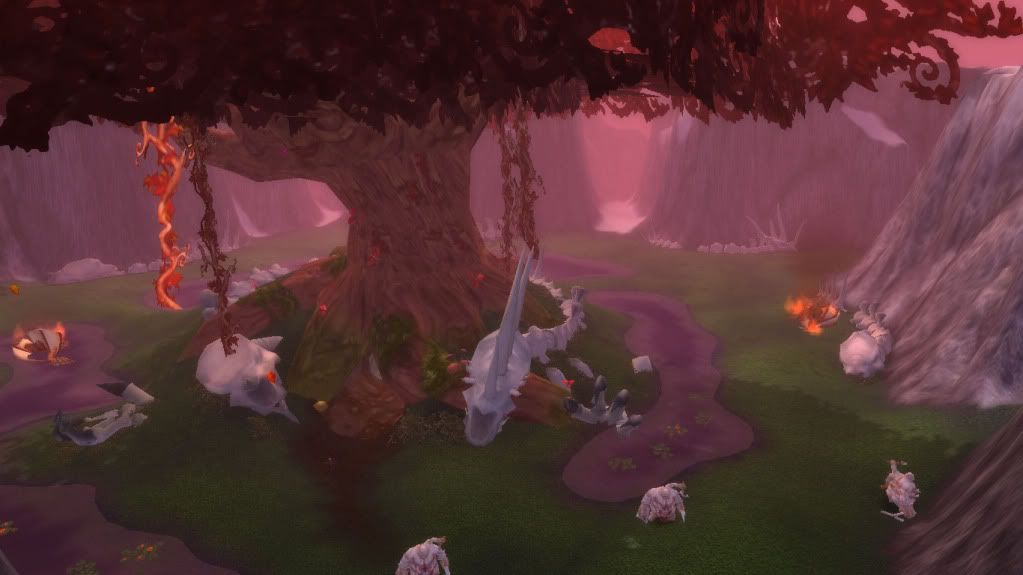 Ruby Dragonshrine
The Dragonflights
, hence 'land of the dragons', are a combination of five main different
sub-factions
of dragons. These are each obvious by their
colours
. There are the
Red
,
Bronze
and
Green
Dragonflights to begin with. Then there is the
Blue
Dragonflight, which we encountered previously in the
Borean Tundra
, who have now gone bad with their leader
Malygos
turned insane. Last but not least there is the
Black
Dragonflight, who are the dark and seemingly
untrustworthy
allies in the Flights. More convincingly when you think that
Deathwing
himself is part of the same sub-faction. They base their operations in the
Wymrest Temple
(pictured above), in the centre of the Blight, which is heavily guarded. This is where each of the flight
leaders
congregate. To note, each leader has their
human
forms and each flight has its own shrine within the zone. You eventually find yourself meeting the leader of the red Dragonflight, who also happens to be
Queen
of the Dragonflights,
Alexstrasa
. Along your journey, you also find that the
scourge
are trying to resurrect a mighty dragon, who is by far the biggest to have ever existed, who went by the name of
Galakrond
. By looking at parts of the skeleton, you can only imagine the sheer size him.
Future you
Moving on. A word of
warning
, especially in this zone. Watch out for
flying mobs
, including elite ones! I found this out the hard way when I flew into the zone while reading the quest log and ended up being dazed/dismounted and
falling
to my eventual
death
. So look out. Anyway, something which caught my attention was the number of
group quests
in the zone. Although I can normally
solo
the majority of them, some of these really did require
assistance
. Not to mention one,
The Plume of Alystros
, which after completing I still ended up repeating as others in zone required assistance. I like to do my bit to
help
you see. Another quest which was really cool, was when you assist the Bronze Dragonflight, and find yourself fighting alongside the
future you
. After the quest you get told by this future version of yourself to '
go get some better gear
', which I seemingly found hilarious! Then there was a heroic quest which gets your flying an alliance gryphon into battle to rescue villagers, while saying '
Come with me if you want to live
'. Doesn't get any better than that.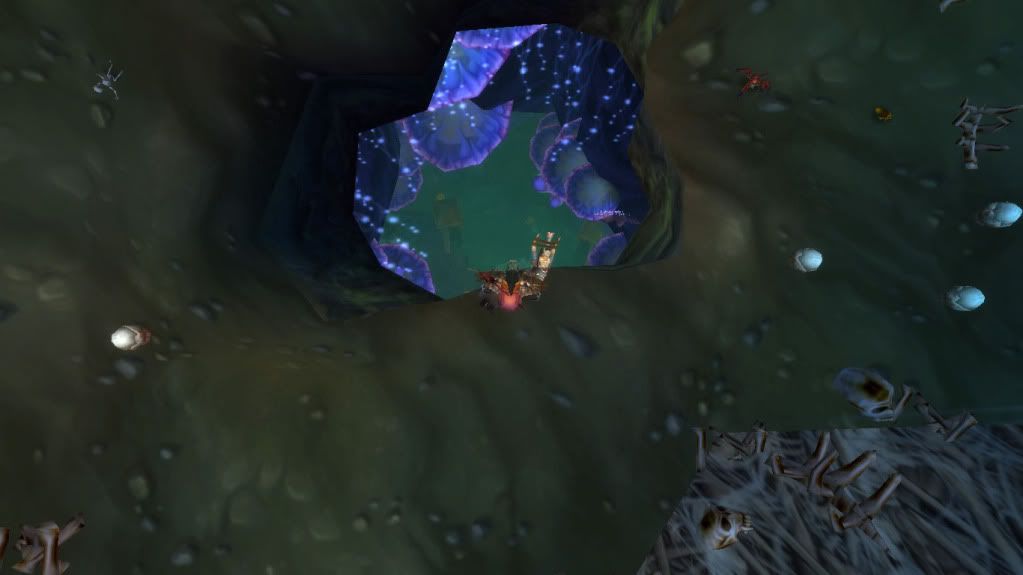 Looking down...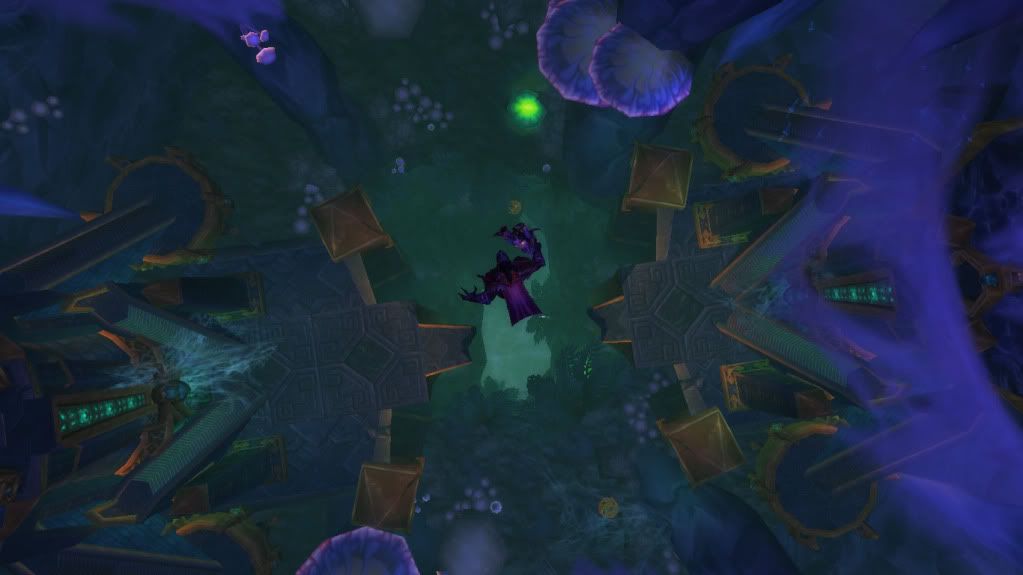 Falling down...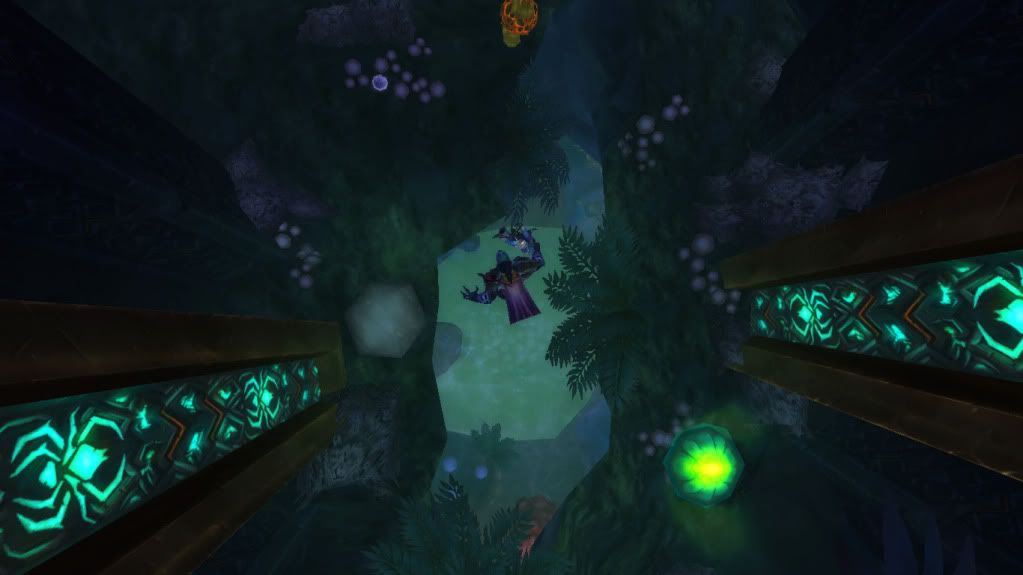 And down...
Now, onto
Dungeons
. First off,
Azjol Nerub
. Short and sweet. However, as you can see above, includes a unique form of travel. Which is a lengthy
hole
to fall down into a pit of water. Then,
Old Kingdom
. What I found really fascinating about this one, was the last boss. He drives you
insane
, literally. You find yourself turned onto your allies, of whom you have to kill in an
alternate reality
, before being thrown back onto the boss. Totally
unexpected
, but what a great
mechanic
!
Back to
quests
. However, a line that which was
best
saved until last. The zone includes a constantly unwinding quest line, which is ongoing as you venture throughout. The quests lead you along the
main story/plot
of the expansion. At one point you find yourself situated in
Frostmourne
cave where
Arthas
first discovers the almighty, but cursed, sword. (As to avoid spoilers) this
never ending story
, which is just so
compelling
, leads you all the way to Angrathar, better know as
The Wrath Gate
. Nothing can describe this absolutely
unmissable
mini-section. With its AMAZING use of
phasing
, as you will see in the following pictures, and truly
EPIC
cinematic, you get sucked right into the game and all its glory.
.. After!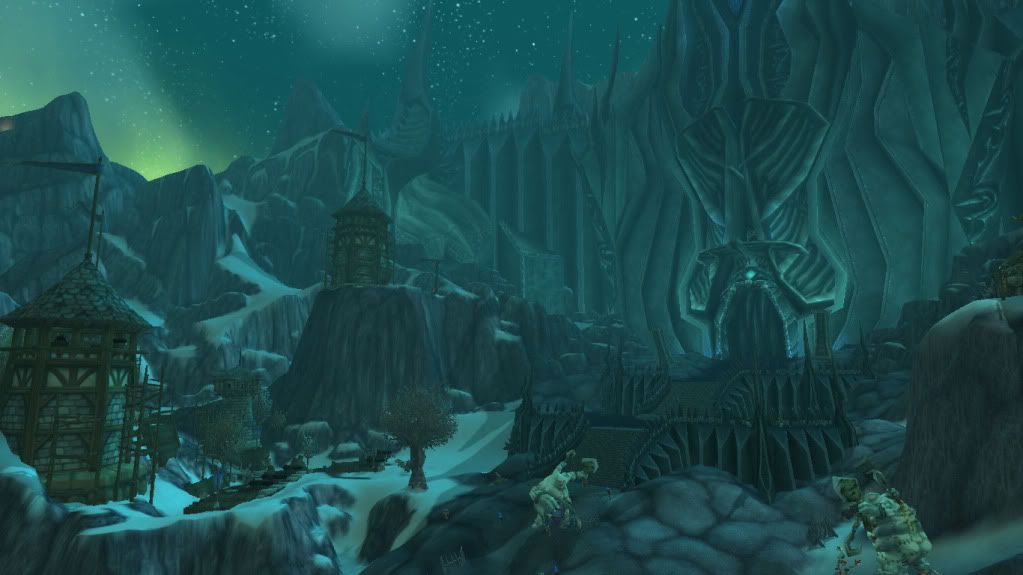 Before the chaos...
Feignheart,
alongside his faithful consort, have now battled their way through the blight and all its mysteries, and it is now time to move on in the quest for
adventure
. Briefly making a quick stop in the city of
Dalaran
, they plan to set off to either
Grizzly Hills
OR
Zul Drak.
Which one?
YOU DECIDE
. Level
75
, and unknowing where the road will take them, we depart.
Before you go.
Blogroll!
I have finally created a blogroll from around the
blogosphere
. Check it out -
Shattered Beginnings Blogroll
! Think you have content that you feel deserves some recognition? Then get in
contact!
Latest at Time Wasted Tuesday
How do you feel the game we all love fits into your real life. I want to hear what you think! Don't miss it!
Keep Posted - Follow/Comment/Subscribe

- Jamin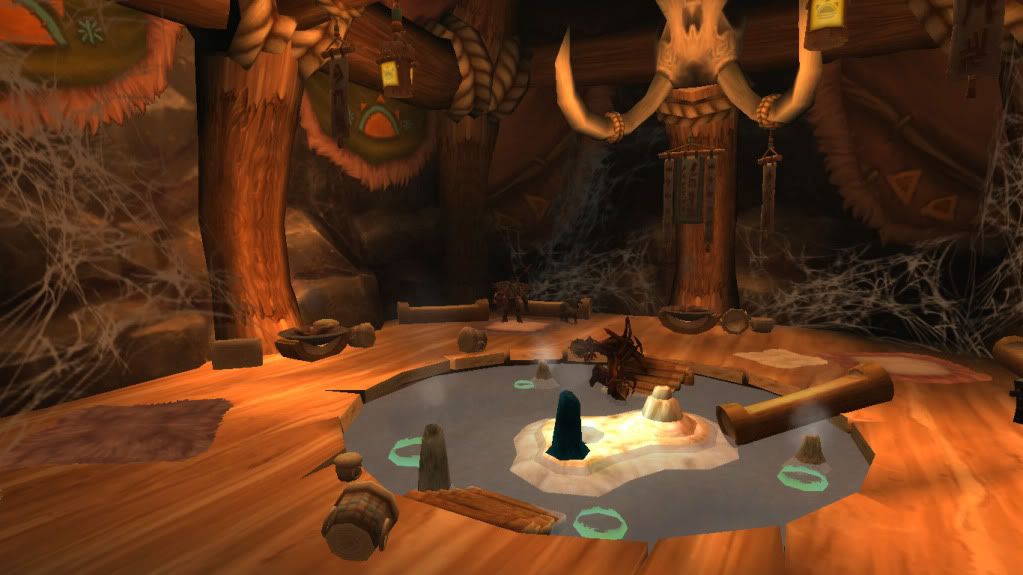 Worgen Sauna
!