Finally having learned to spell Transmogrification...
Craggle Wobbletop's Toy Wagon?
Now, since Blizzards initial announcement of
4.3
, the community, on all sides, has caught fire. Whether it's jumping for joy, sitting on the fence, or raging that "your never logging in again", there has been a variety of opinions throughout. Some, such as
Fannon
, feel that this is
make-or-break
for the World of Warcraft, in his post
Previewing Patch 4.3
. Sadly, as much as it pains me to say, I feel he has a good point. No matter how much I would like to deny it, I see this being the possible
decider
in the future of WoW. Especially with a number of big MMO games, which seem a world apart from past copy-cat attempts, on the horizon.
So will Blizzard pull something magic out of the hat, like it has done repeatedly and successfully over past years?
A Battle With the Destroyer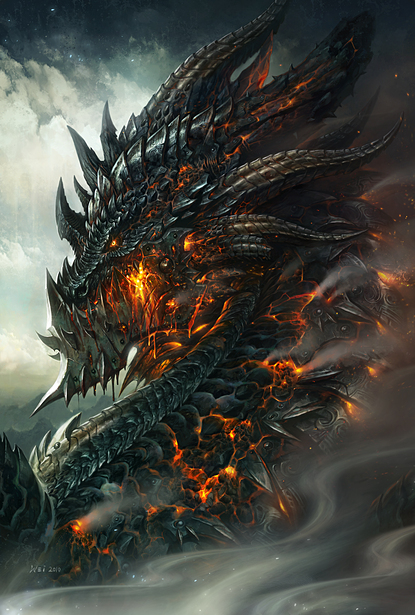 Stepping away from the negative, it has been officially quoted that we should be prepared for an
epic battle
in 4.3. A battle of great proportions, like no other.
To bring a close, with the last major content patch of the Cataclysm expansion, we are being set in line for a fight against Deathwing the Destroyer. One described as nothing alike what we have experienced before. Aside from proceeding mentions, such as a ride on the tyrants back during the encounter, and various speculation, I have formed my own fantasy.
He has brought sheer chaos to the majority of Azeroth. He has ruined cities, wrecked entire landscapes and set his sights on those brave adventures wondering amidst the fires. So why take the 'fight for azeroth' to a hole in the mountain, far away from civilisation? Mean, he can travel some distance with those flapping arms, why would he stick to one place? This is where the idea, of stretching the fight across to particular world locations, came to mind. Whether it be the forests of Elwyn or to the waters of the Thousand Needles. Then I thought, hold on. They had this, as such.
World Bosses
anyone?!
My very own speculation (and mad scientist sparkle in the eye) took flight.
Imagine, with the clever use of phasing, being able to spread the encounter across various playing fields. Each phase took you, presumably on Deathwings back, to a different zone. You could be winding in and out of the jungles of Stranglethorn Vale, trying to avoid the incoming rein of fire, before being warped to the distance of the Twilight Highlands. Those are only examples, but just imagine a full scale war against Deathwing, waging across the world he set out to destroy.
Just sitting here and letting loose on the endless possibilities this could bring, sets my candle on fire. Why couldn't this happen. They've come so far with the Phasing technology now, which is evident in the fire lands, so why not? This would live up to the level that Blizzard has set themselves by far, alongside a large proportion of the player base also.
What do you think?
Mog' Me a Lightsaber
Glow-stick Rave?!
If the above speculation wasn't enough for you, then I've also had this little spark of Imagination. Although I haven't had much time to give it a more precise argument, I thought I'd get it out there and let you guys do that part.
With the ability to change the appearance of your armor and weapons drawing closer by the day (Or week, should I say), why not continue with the character appearance building? Now, already as I venture into this, I can see a few walls being hit here. Though what about weapon enchants? Have you ever just wished you could pick the one with the coolest effect, or
glow
? Rather than the one which gave you the 'best' stats. What if you were to have more choice on what the final look of your weapon would be, once it receives a particular addition. There are some really interesting graphics out there, especially with the older ones.
One implication could be - "the better looking enchants are the more expensive ones, in most cases, so why let everyone have them". However, I don't see much more being said than that. Other than the complaint - "everyone is running around with lightsabers! What is this madness!". Let us take a look at the various enchant effects out there:
Your standard glows
It becomes interesting from here...
...Now it gets exciting - One of my all time favourites
Any thoughts? Would you fancy taking the enchanted weapon look a little further?
Once, again, wrapping it up, for what has been a speculative post indeed. I hope to see and read all your own thoughts and ideas on anything I have mentioned (or anything at all).
Keep Posted - Follow/Comment/Subscribe

- Jamin
Reminiscing by the lak

e